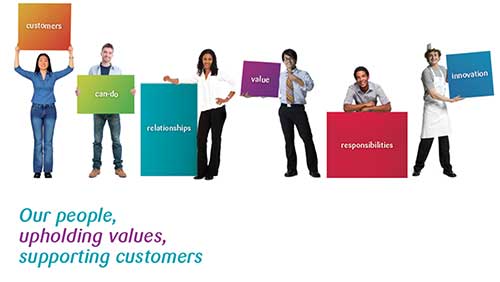 3 core values, 3 promises:
We Imagine
We Care
We Commit
Keolis is an innovative partner, creating efficient solutions and able to anticipate for the future of its clients
We are adaptable and creative, continuous improvement is our motto
Keolis is reliable and strives to transport its passengers safely
Keolis is a respectful Group, committed to integrating and encouraging its employees
We care for our employees, our customers, our city, our planet
Keolis, as a responsible company, is committed to delivering its promises to PTAs and customers
We believe in a sustainable growth, and take our responsibilities and commitments seriously
"We at Keolis Hyderabad derive additional values from the 3 core values and pledge to imagine, care and commit."
"ZERO HARM": safety processes harmonised at all levels.
I will carry out my work without causing any harm to myself, my colleagues, the community or the environment. I will look out for my teammates andpoint out any unnecessary risks being taken.
"OWNERSHIP": delivery to the highest standards.
I will lead by example. I will do my best to ensure we achieve the goals and targets we set.
"WORKING TOGETHER": contributing to team's achievement
I will work with my colleagues and ensure I involve them in my decision making. I will consult the right experts within the company. I will talk to my team mates and colleagues and share information.
"THINK LIKE A PASSENGER": customer satisfaction is our core concern
I will put myself in the customer's shoes. I will answer the customer politely and as if this is the first time I have been asked this question.
"VALUE FOR MONEY": Building sustainability
I'll raise my good ideas to my Manager. If I see that something can be done more easily or efficiently I will discuss this with my Manager. I will consider: "What are the benefits to the company?"